Danny Kyle Open Stage Day 12 Wednesday 1 st Feb
Danny Kyle Open Stage is broadcast live by Celtic Music Radio 5-7 pm and on Archive
While correct at time of printing please check with artists site and Celtic Connections website for any alterations or amendments
Avocet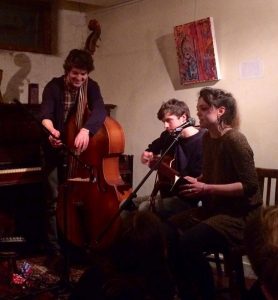 – Glasgow –     Listen Again 
Sam Grassie / Herbie Loaning/ Iona Zajac
"Having met through the traditional music scene in Edinburgh and Glasgow at a young age, samaniona decided to combine forces in making contemporary music with a traditional folky feel to it yet also influenced by blues and world music.  Sam's finger picking guitar style reminds one of the likes of Bert Jansch Joining him are Herbie on double bass, and Iona, whose distinctive vocals are best described as soothing and haunting at the same time"
Yoko Pwno – – Edinburgh  – Listen Again 
Yoko Pwno's mixture of Scottish trad and electronica has been turning heads and winning fans since their inception in 2013. Fronted by the twin fiddles of Lissa and Lewis, two players steeped in the Edinburgh session scene, the band's hybrid approach to electronic music recalls everything from elements of techno greats like Juan Atkins through to the ambient-leaning dance of 4tet. Combining an exciting live set with a well executed, original take on the music of their country, Yoko Pwno are an act not to be missed!
Murran – Bishopbriggs –  Listen Again
A song writing partnership formed through a chance conversation at work, Carol and Pauline have over the last three years played together at various festival open stages and local open mics/folk venues.  Over the past year they have been focussing on their song writing spending time with and learning from such as Karine Polwart, Findlay Napier, Iain Morrison and other experienced artists. Carol is mid-way through a Masters degree in songwriting at the University of the West of Scotland under the watchful eye of David Scott (The Pearlfishers) and one of her recent songs was played on The Janice Forsyth show on BBC Radio Scotland and also been a guest on Ross MacFadyen's show on Celtic Music Radio earlier in the year. Pauline and Carol are developing as a duo, experimenting with different instrument/vocal combinations and are excited to see what 2017 brings Murran's way.
Terry Balfour – Band – Glasgow –  Listen Again 
For the past few years Terry has enjoyed playing Mandolin, Guitar and singing with Gaelic, Folk /Americana group Macanta. Throughout his musical journey with Macanta, Terry has been afforded the privilege of playing on such programs as BBC Rapal, Tadio Nan Gaidmeal, Gun Sgott and playin various Festivals which encompass the Celtic genre>   Terry has agsorbed many different musical styles while playing in a rich diversity of rock, jazz and folk ensambles.  He has utilised His comprehensive musical talent and performed with a range of artists such as Christine Bovill and Skippinish.  Last hear released a rock single, he now wishes to channel his experiences into more diverse work which is more fitting to the Folk Fusion Market!
While correct at time of printing please check with artists site and Celtic Connections website for any alterations or amendments
We wish you all a fantastic festival and look forward to catching up with you along the way
Thank you for the support of MusicNewsScotland 
 Any queries  or enquiries regarding the Danny Kyle Open Stage please  contact Liz Clark direct on dkos.info@yahoo.com